a shoreline EcoVenture
The Experience You can Expect - step by step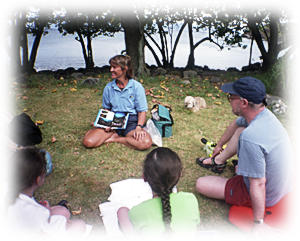 Biology 101
Learn about natural history of Hawaii. How the islands are formed, how marine life first came to Hawaii, and why Hawaii has so many endemic (only found here) fish
Snorkel Gear
Learn how to correctly fit and wear your mask and snorkel and how to clear water from them during your reef tour. Learn how to keep your mask from fogging too.
Safety Check
Suzzy double checks everyone's mask before entering the water.
Breathing 101
Many people have trouble breathing through a snorkel with their face in the water. Suzzy gently introduces the technique of snorkel breathing in waist deep water.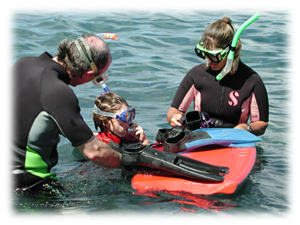 Special Attention
Suzzy goes out of her way to work with anyone having difficulty. She takes as much time as necessary to get everyone feeling comfortable.
Safety First
Depending on individual skills, most snorkelers are comfortable enough to swim free. However, Suzzy always tows her safety float to aid snorkelers that get tired or start feeling uncomfortable.
The Experience
As great as it is to see the reef and all its' inhabitants from the surface, it is even better to see some of the marine life up close and personal.