Maui Snorkel Tours
PAYING IT FORWARD
By Suzzy Robinson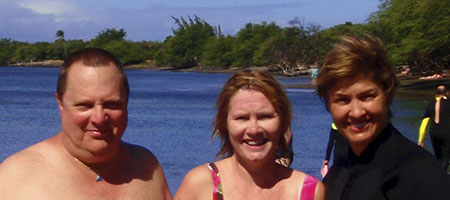 You may ask yourself what does this title mean?  Well let me explain.  From the movie "Pay it Forward" is about helping, serving and giving without expectations of reciprocation. 
I have been given a wonderful gift of sharing my passion and love of the ocean with each and everyone of you.  I consider it an honor to be of service in paying it forward by introducing you to a new experience you might thought otherwise impossible, unattainable and not in this lifetime.  My experience of 25 years teaching scuba and snorkeling here on Maui has given me a great capacity to deal with all kinds of situations.  This past month I had the fortunate opportunity to take Eva and Duane out snorkeling which touched their lives deeply (read the attached testimonial.) Eva was dealing with two major events in her life that has kept her out of the ocean - a past drowning experience and dealing with MS. 
Aloha Suzzy
I wanted to thank you..Words can't describe my feelings on my first snorkeling experience. It was breath taking and when telling my girls about it I found myself cryin. Its was just unreal. The ocean (the small part I did see) is just spectacular.
It was a lifetime dream I've wanted for so long, I always envy the people that could do this, but never thought I would get to experience it. And coming from someone who has no trust in anyone it was so easy and comfortable putting my trust in your hands. You made me feel safe, not sure why, but I did trust you..and I've spent my life not trusting anyone but my girls. And after my drowning, I honestly thought I would never trust anyone again to get me in any kind of water, let alone the ocean. It was really a dream come true to me. If I could have tipped, lol, you a million dollars it still would have not been enough for what you gave me. I tear up just thinking of it ... And I wish I would have done the second half of the snorkel tour but I have MS and my body was cold an hurting ...but even if I can't walk tomorrow I'll never forget or regret my first snorkeling with you. Again thank you or in your words Mahalo.
Eva
2/25/09
I care and I love being of service to each and everyone one of you.  So, I continue to "Pay it Forward" for you, our oceans, our creator and of course for me being able to play in the ocean expressing my passion.  So weather you are joining me for a snorkel tour or talking with me on the phone gathering information to help you have a more enjoyable stay on the island, my aim is to help you have the best experience on Maui that will not only impact your holiday in a positive way but a reference point/benchmark to refer back to for your entire life. 
Please give me a call to schedule  your next snorkel tour or pass this onto another friend or family member who you can help make a positive impact in their lives…."Paying it Forward".
With Aloha & Love,
Suzzy Robinson