a shoreline EcoVenture
a Message from Suzzy
MAUI SNORKEL TOURS….. Let The Good Times Roll!
Everyone is impressed from first time snorkelers & non-swimmers to returning snorkelers looking for another great tour and even myself as their guide and teacher. Our Maui ocean waters continue to dazzle, inspire and surprise us with its jewels of richness, from the exotic reef fish we see to the rare and unusual creatures that reveal themselves to us.
SNORKELERS PORTFOLIO
Trevor, Doug, Kyle, Kim, Conner
The Rutledge Family
This wonderful family joined me last year to introduce their kids to snorkeling on Maui. They had such a great time they returned to Maui this year and booked another excursion with me. A family that plays together – stays together……Doug and Kim are certified scuba divers and now one of their sons Kyle (11 yrs old) has just finished his scuba certification - congratulations Kyle! Hopefully someday I'll have the opportunity to take their entire family on one of our International  Dive Trips - it will open another level of ocean experiences and education for them.
'Suzzy always takes us to the most interesting sites.  She not only takes us snorkeling, but educates us on the many beautiful fish and coral.  Our boys love going to maui, and have become avid snorkelers and divers because of suzzy's care and passion for the sea.' (Doug Rutledge)
Delia & Maureen
Delia celebrated her 75th birthday snorkeling with me last week. She and her daughter (Maureen Ter Beek) wanted a gentle snorkel tour with a small group and lots of personal attention. Needless to say, after an hour of snorkeling they were both in awe at how much they saw and all the extra snorkeling skills & tips they learned. Thank you for allowing me the opportunity to share a lifetime experience  with you Delia! Happy Birthday!
Suzzy:  I wanted to thank you for making my mom's 75th birthday a truly special day.  She really wanted to snorkel while she was here in Maui but the currents around Black Rock and some other sites proved to be a bit intimidating for her.  The incredible snorkeling conditions and your patience, thoughtfulness and technique combined to make for an awesome experience that we both will remember.  We will recommend you to our friends as well as the woman who rented her condo to us over in Ka'anapali.
Thanks again!  Mahalo! Maureen Carty Ter Beek, Sparta, New Jersey

ENCOUNTERS - CRITTERS, CREATURES AND CAMERAS
During late February and March we had several monk seal sightings. On the day we had our best encounter the seal must have been watching us. I thought I could hear a snorting during our snorkel talk but dismissed it. Then during our snorkel I  heard the snorting sound again and to my  surprise he swam right over to us and we experienced a close encounter with a Hawaiian Monk Seal for about 20 minutes.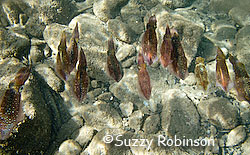 Squid
A few weeks ago we came upon a school of squid in very shallow water. This was a treat for me because I have never seen this many Hawaiian squid in 25 years of diving and snorkeling Maui waters. Scenes like this are common in other locations we visit on our International Dive trips to the South Pacific, just not on Maui.
The photographs in this article were taken with my new Olympus in-water digital camera, This little camera can go to 30' and has become a great tool to help me capture the special moments of each tour.
So next time you are on Maui save a morning early in your trip to join me on a snorkel tour - it will be one of the top highlights of your Maui experience.
PS: I've got my own website now -  www.mauisnorkeltour.com – Check it out!
With Aloha,
Suzzy Robinson