a shoreline EcoVenture
a Message from Suzzy
EVEN IF YOU THINK YOU CAN'T…YOU CAN
I've been off island most of May helping my closest childhood friend pass.  She was diagnosed 2 months ago with Melanoma Cancer and died May 12, 2008.  What I learned more about from this honorable life experience is compassion, kindness, empathy and gentleness.  So if you or one of your friends or family are interested in snorkeling but have fears, limitations, don't know how to swim, etc. or they want to learn more about our oceans, I now have a deepened layer of virtues to use on my snorkel tours.
SNORKELERS PORTFOLIO
The Greene Family
Joe, Nick, Karen, Leonard & Suzzy
"Even if you think you can't….you can!"  My most recent client is a testimony of this.  Last Tuesday May 20, 2008 I took Karen Greene, her husband Leonard and her two kids Joe and Nick out snorkeling.  On their special trip to Maui, Karen wanted to experience snorkeling, however, she was battling brain & lung cancer and was very weak from chemo & radiation treatments.  I adapted the tour just for Karen – I put her on top of the boogie board, towed her throughout the tour and even cleared her mask for her when needed.  As a result Karen got far out onto the reef and saw a plethora of fish, turtles, squid, the coral reef and most of all she was submerged in mother nature – our precious ocean.  Thank you to the Greene family for allowing me to be intimately involved in your special trip to Maui.
Dear Suzzy, We would like to thank you for the wonderful time. We can hardly express our appreciation for your gentleness and empathy. Karen is still very weak from the chemo, but she so looked forward to snorkeling. She was terribly anxious, having never snorkeled, but you made everything absolutely perfect for all of us. You gave us an experience that we will never forget. You are the very best!! Your friends, Karen, Leonard, Joe & Nick
ENCOUNTERS - ALWAYS CARRY A CAMERA!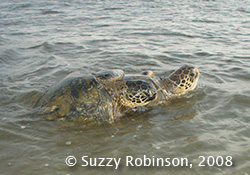 Most evenings around sunset Ed and I walk our lovely Shih Tzu dogs, Koki and Nemo, along an ocean park in Kihei. One evening in May someone mentioned a dead turtle floating offshore. My curiosity got the better of me and upon closer observation in thigh deep water I discovered the "dead" turtle was actually two very much alive green sea turtles in a mating embrace.
Nemo & Koki
The photographs in this article were taken with my new Olympus in-water digital camera, This little camera can go to 30' and has become a great tool to help me capture the special moments of each tour (and day.)
So next time you are on Maui save a morning early in your trip to join me on a snorkel tour - it will be one of the top highlights of your Maui experience.
PS: I've got my own website now -  www.mauisnorkeltours.com – Check it out!
With Aloha,
Suzzy Robinson