Seadiver II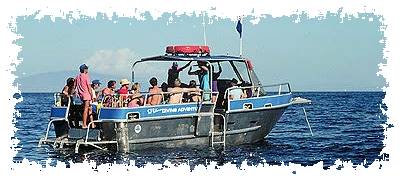 Our original Flag Ship Seadiver II has been in daily operation since April of 1990. Her seaworthiness and comfort have been proven over and over again. She was custom designed by Ed Robinson and incorporate features derived from 18 years of dive boat operation. Basically, Ed included features he found work well on other dive boats, and added features and improvements he felt were lacking in other boats. The final outcome is a state of the art dive boat built for the Hawaiian waters. You won't find a more diver friendly boat than Seadiver II.
Ed searched out and located the premier aluminum boat builder in Edmonds, Washington. Bill Munson worked with Ed and customized his "Hammer Head" design into Seadiver II. She was the first large commercial dive boat to launch from Kihei Boat Ramp. Ed's choice of boat must have been right because the competition took notice and now there are half a dozen more Munson design dive boats also operating from Maui.
Dimensions: 30' X 10'
Planing hull for faster speed and less travel time to the dive site
Coast Guard Certified: 16 (3 crew and 13 passengers)
forecastle: enclosed head (toilet) and dry storage
Large covered area for sun protection
50 gal fresh water rinse and hose down
Ample seating w/gear storage under each bench
Center tank racks incorporating fin & mask storage
Side dive doors for easy water entry
Large stern dive platform
2 stern ladders
1 side ladder (we've found this the safest position to climb on board while anchored in rough water)
But you need to dive with us and find out just how diver friendly Seadiver II really is.