A DIVE TO REMEMBER
Spinner Dolphin & Whales
by Paul & Wendy Shimski
A beautiful sunrise was just starting over the nearby Haleakala summit, 10,023 feet above sea level, where the temperature was about 35 degrees.
It was a little warmer, about 67 degrees, on that Wednesday morning at the Kihei Boat Ramp, but we had jackets and sweat pants; it was March, even though we were on Maui. And Ed Robinson's Diving Adventures had hot coffee to help warm all twelve divers, as we checked-in for the day's trip to Lana'i.
Kim and Paul were setting-up everyone's gear, while Byrd handed-out waiver forms and did a boat safety briefing. After introducing the boat staff for the day, Byrd then introduced all divers to each other; even those who he had just met. It's a good thing my spouse, Wendy, and I had coffee, or we might not have know each other's names, let alone all the other divers names. We appreciated the personal attention we received from the beginning of the day.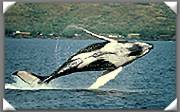 On the 75 minute boat ride to the island of Lana'i, we met new friends, talked with Byrd, Kim, and Paul about the type of diving we would like that day, and we watched WHALES! It was humpback whale season around Maui, and did we ever see whales. Many blows, quite a few pectoral slaps, and a couple of impressive breaches. Plus, we knew from our dives the day before, we would hear the male humpbacks singing during our dives.
The first dive was Table Rock [Monolith], named for a coral formation that looks like a table in about 40 feet of Pacific blue water. Kim and Paul showed us pictures of what we could expect to see on the dive. Then, we saw many fish that Kim and Paul had briefed us about before the dive.
The vast majority of our previous diving experience has been in the Caribbean. We observed underwater life similar to Caribbean underwater life, such as, scrawled filefish, squirrelfish, sergeant majors, banded coral shrimp, and garden eels. However, much of the underwater life around Hawaii is different from that in that in the Caribbean, such as, humuhumunukunukuapua'a (Hawaiian trigger fish, and yes, we really can pronounce it), raccoon butterflyfish, Moorish idols, bluespotted groupers, and dragon eels. On most of our Maui dives, we viewed free-swimming black-tip and gray-reef sharks.
During our 1:15, surface interval, the crew served HOT coffee again, and muffins. No one should go hungry on vacation.
For our second dive, we tied up to a mooring line at Second Cathedral, a famous dive site on the southwest side of Lana'i. Since this dive would entail a number of swimthroughs, we were divided into smaller groups than the normal six divers per dive guide.
After meeting under our boat Byrd led our group into an impressive underwater room. The sunlight streaming in through overhead holes in the overhang made it look like we really were in a cathedral. Why did I leave my Nikonos at home?
After exploring Second Cathedral for 10 to 12 minutes, we ventured to other areas outside this remarkable underwater room. All of Ed Robinson's dive guides carry large underwater lights to help point out many small critters, which otherwise would go unnoticed.
We were still looking for tiny critters as Byrd led us back toward the boat nearing the end of the dive. Byrd pointed up and to our left. It was darker in that direction than where we had been looking; maybe clouds were overhead.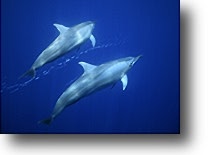 Then as I focused, I realized I was looking a large pod of spinner dolphins. The sight was breathtaking; they were swimming so gracefully underwater, about 30 to 40 feet from us. This was not a contrived trained dolphin encounter. This was an actual chance underwater sighting of Lana'i's spinner dolphins. Divers tend not to see dolphins in the ocean because dolphins don't like our bubbles. But there they were, just a short distance away. We wanted to be even closer, but we dared not move. We certainly did not want to risk spoiling a perfect underwater moment
Did you see the dolphins? That was the question of the day back onboard Sea Diver II after that momentous dive. We could talk of nothing else on our way back to South Maui. Then, about 100 yards off the starboard bow, a huge splash; it was a humpback breaching.
Byrd stopped the engines and lowered a hydrophone so we could better observe and listen to the gentle giants of the Pacific Ocean. This break in our eastward cruise toward Maui also allowed time to enjoy a welcome lunch of sandwiches and soft drinks. Our dive boat became a whale watch luncheon cruise.
We arrived back at the Kihei Boat Ramp about 2:30 PM; still plenty of time to enjoy topside Maui. But we all wanted to see that pod of dolphins again. Maybe we will, because we definitely will go on another Wednesday trip to Lana'i.
We'll be back, and soon, we hope. Thanks for everything.
-- Paul & Wendy Shimski